A widget Theme can be applied to your Website in "Website Settings"
View your Authorized Domains: https://www.leadsandcontacts.com/site/domains
Then, click the Website Settings link on the right
'Widget Theme' setting is in the first panel of options. Choose from any in the library, or create your own.
Create a Theme
To create a theme, first COPY an existing theme from the Library tab or another theme you created.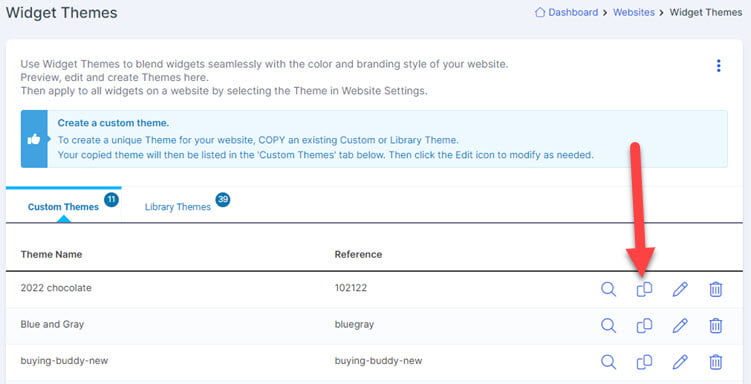 Editing Themes
To access the Theme Editor
Navigate to: Websites & Widgets > Widget Themes
The theme is applied to your website widgets in the Website Configuration panel in "Website Settings".
Once you apply your theme, if you don't see the theme on your website then be sure to clear your website cache.
Fonts
We recommend Lato for all three options.
In all cases, font-weights are automatically applied to each font you choose
"Headings font" - font-weight will be set to 600
"General font" - font-weight will be set to normal (400)
"Light font" - font-weight will be set to 300
Transparent Backgrounds
The background color of the "Widget Background" can be made transparent by deleting the value and saving.
To restore the color picker, type "#ffffff" into the field and save the theme. Then reload the page to see the color picker again.
Theme Settings Pane
This is what the Theme Editor looks like, with all the options shown. The "preview' for the specific options displayed is shown underneath.
More advanced styling can be achieved by manipulating the CSS directly.
See Using CSS to Change Design.