The Property Details widget must be placed on a dedicated "details" page in your website as part of the foundation page setup.
A unique Property Details page is always created for all listings, even though most user interaction with the website will show property details in an 'overlay'.
The Buying Buddy system understands when a real person is viewing property details and show the 'overlay' rather than navigating to the actual page.
The 'overlay' method provides a number of advantages, including:
Showing property details is considerably faster and speeds up presentation of listing data
Using the 'overlay' ensures that when the user returns to the prior view, their relative position in a list of results is maintained.
View as Overlay
From a Results widget, or Gallery widget etc, when you click 'View More' (to 'view property details'), the property details are shown using an 'overlay'. The Overlay method provides a fast intuitive approach to looking at a property in detail.
A top navigation bar allows a user to navigate forward and backward through the set of results. The Return button will take the user back to the original view (list, map etc.) without losing their place.
This makes the loading of property details fast, and has the added benefit of returning the user to the exact same position in any list of results or map.
The behavior can be changed to display in a new browser tab by changing this option in Website Settings (panel 4).
For more information on the overlay, see Property Details Overlay Method.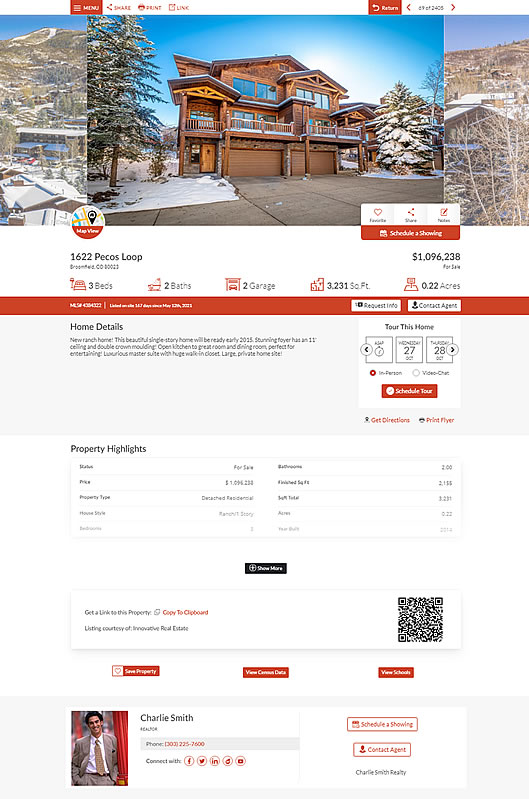 This widget is mobile responsive and will expand to fill any container / space made available in your website page design.
Size
Minimum width

: Designed for mobile

Maximum width

: Unlimited
Colors and Background
Widget Themes can be used to apply predefined, or your own, color schemes.
Uses 'Widget Background' color from the applied widget theme
Optional Display Blocks
The following blocks are shown on Property Details by default.
However, it is possible to hide these using the options in Website Settings (scroll down to section "5. Advanced Options")
Hide Mortgage Calculator
Hide Walkscore
Hide View Schools button
Hide View Census button
Hide similar properties
Parameters
id='MBBv3_SearchDetails' (required)
This defines the widget to be a Property Details Widget
[label color="success"]Examples[/label]

<div id="MBBv3_SearchDetails"></div>
If you are using the WordPress MBB Plugin, then the short code is like this:
[mbb_widget id="MBBv3_SearchDetails"]
Similar Properties
At the bottom of the details display there is a row of 'similar' properties.
These are defined as properties matching the following criteria from the currently viewed property:
Same zip
Same city
Same property type
Price + or - $25,000
Same bedrooms minus 1
Same bathrooms minus 1
Property No Longer Available
Because the "property details" page is a single page with the "details" widget on it, the page always exists. So even if a property is de-listed or totally removed from our database, the page will simply present a message that the property no longer exists.
This also means we avoid any problems with 404 (missing pages) error messages etc.
See Soft 404 Errors Explained if you are seeing reports of this in your analytics.
Flow
Below is a visual example of a search sequence on your website:
A Search will go to your "results" page and show results using the Results Widget.
Clicking on "View Details" for a property will go to your "details" page and show property details using the Property Details Widget.