The Buying Buddy Plugin uses Google Maps.
To use Google Maps, a Google Maps API Key is needed (a long unique number that will be used when the Buying Buddy widgets load on any page).
Without this Key, the Buying Buddy widgets will fail to work.

This Google API Key will come from your own Google account.
You must add your Google API Key to your Buying Buddy account for each authorized domain in your account.
1. Get Started with the Google Maps Platform
The very first thing to do is to log in to your Google account (e.g. GMAIL etc).
When first setting up your Google cloud account, we have found that this is often a lot easier if you use a personal Gmail/Google account, rather than a company GSuite account - especially when it comes to setting up the Billing account options.
Once you are logged in, go to the Google Maps Platform and click the Get Started button in the middle of the screen.
Be careful and don't rush through the following panels. Don't miss the vital steps in this process!
Google will ask you to choose a type of account and for most agents, we recommend that you select individual account for personal use.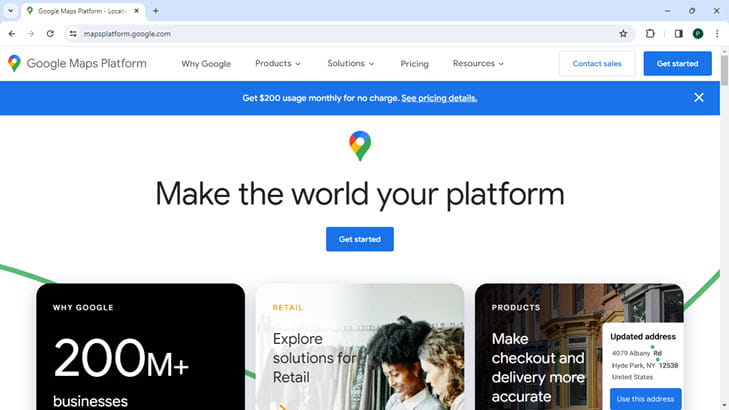 2. Setup Billing
For a new account, you will be asked to enter some details for your account and then setup Billing.
Accept the offer of a 'Free Trial' and continue (you MUST upgrade to a full account later in this process).
Follow instructions to setup your account - you will see multiple panels and questions to work through (e.g. what type of business do you have etc.)

At the end of this account setup process, you will be directed to the billing section and asked to add your credit card and billing details.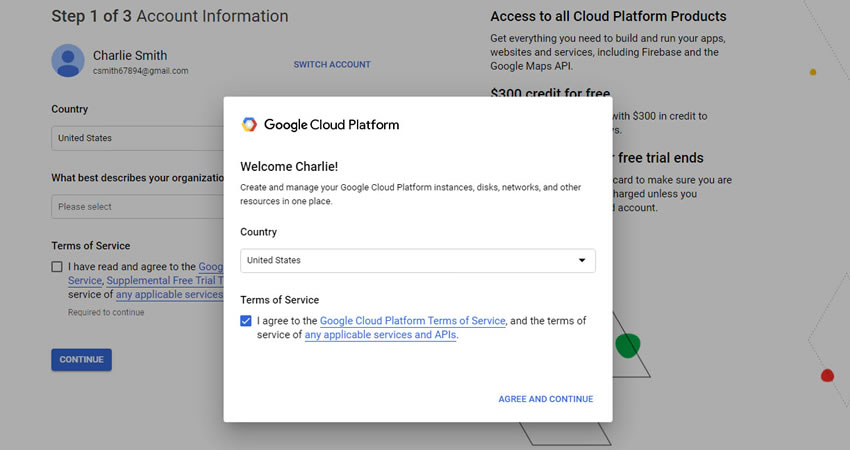 At the end of setting up Billing
When you have completed setting up billing, you will then be shown a panel with your API Key, that says something like: "Get Started with a Demo".
Ensure both options on this panel are selected:
- Enable All Google Maps APIs
- Create budget alerts
Click BUILD A DEMO to proceed to the next panel
3. Protect Your API Key
The next panel says 'Protect Your API Key'.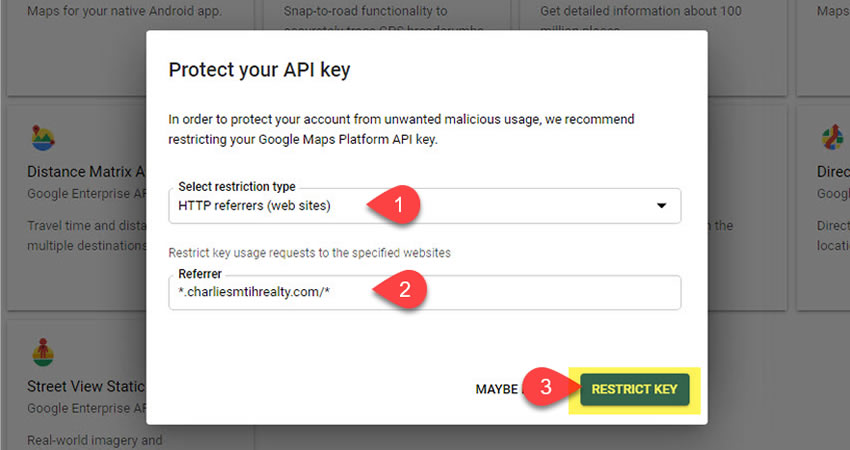 First, select 'HTTP referrers (websites)'.
Then , type in your website as indicated.
It is VERY important to type this exactly as described here.
So, take care and be accurate when typing.
For example, if your website domain is https://www.charliesmithrealestate.com
.. then you would enter:
*.charliesmithrealestate.com/*
i.e. do not enter 'http', or 'www' etc. - JUST the domain name prefaced with the characters ASTERISK DOT, and followed by characters FORWARD-SLASH ASTERISK.
Then, save by selecting RESTRICT KEY.
At this stage you will have completed the initial setup.
4. Authorize Your Full Site to Use this Key
On the left side menu, you should be seeing the "Google Maps Platform" menu.
(If not then click the white menu icon - and scroll all the way down the menu (long way down) and select "Google Maps Platform").
Click Credentials (click this link).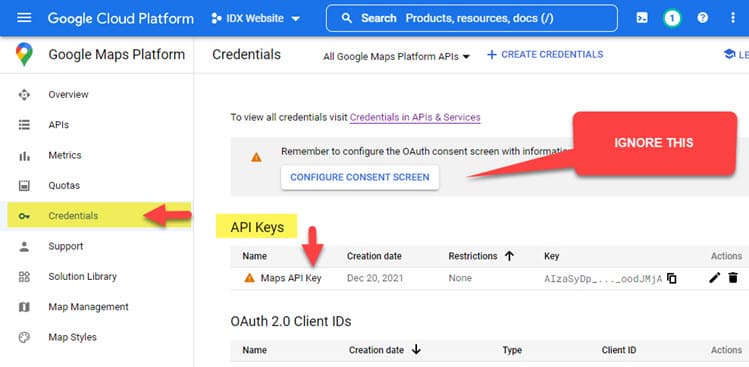 In the API Keys list in the main panel, click the "Maps API Key" link shown to go to 'Key Restrictions'.
Next, on the 'Restrict and Rename Key' page, look for 'Website Restrictions'.
You will see your website shown as it was entered earlier.
Under this click ADD AN ITEM to add your website address a second time as described below: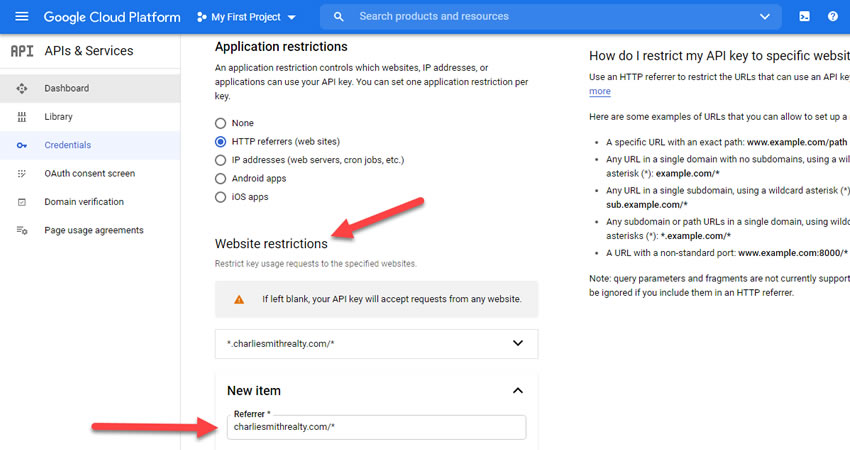 This second entry is different and is required.
So, take care and be accurate when typing.
As per the previous example, if your website domain is https://www.charliesmithrealestate.com,
.. then in your website in the following format, which is different from the first time:
charliesmithrealestate.com/*
This time JUST the domain name (no preface), followed by the characters FORWARD-SLASH ASTERISK.
(do not enter 'http://', or 'www' etc. )
Click DONE.
At this stage you should now see two versions of your website specified, similar to this:
*.charliesmithrealty.com/*
charliesmithrealty.com/*
At this time, you may also add additional websites that will also be able to use your Key.
For example, if you have a Squarespace site with a temporary path - or you are developing on a sandbox domain, then just add the two versions of each.
Do not be tempted to change or modify any other settings or restrictions on this page!
Finally, at the bottom of this page select SAVE.
5. Set Quotas (to avoid fees)
On the left menu you now need to select Quotas (click this link)
At the top of the main panel on the right, select "Maps JavaScript API"
Now you will see a heading of "Map Loads"
Click the small "down arrow" on the right to show the full panel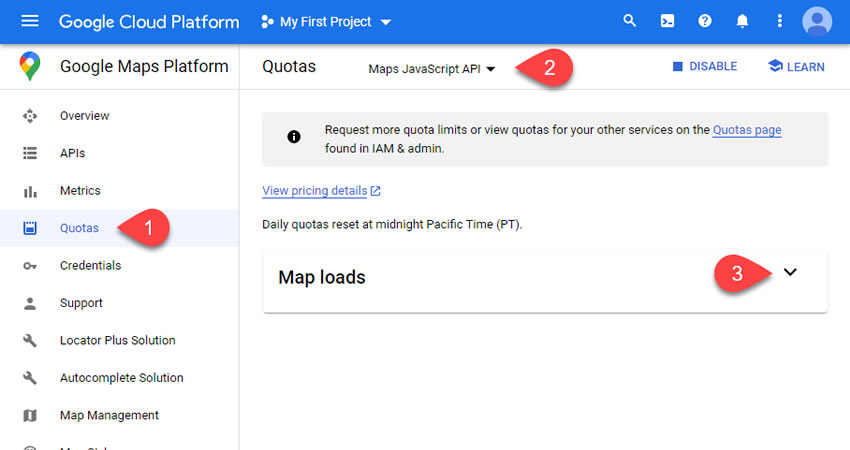 Look down the "Map Loads" panel to the bottom where you will see a small table which lists the quotas.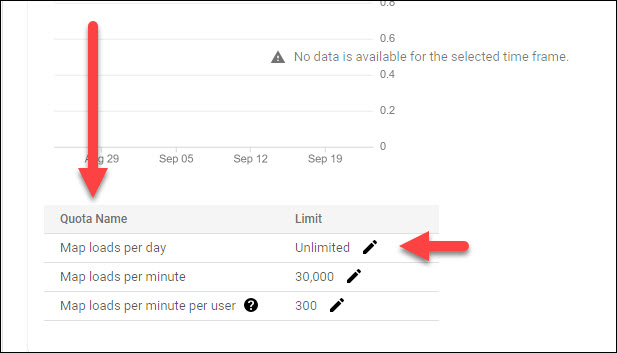 Click the pencil icon for "Map Loads per day" to see the "Edit Quota" panel on the right.
Uncheck the "Unlimited" option
Type 1000 as the new Quota
Check the 'Confirmation' option and SAVE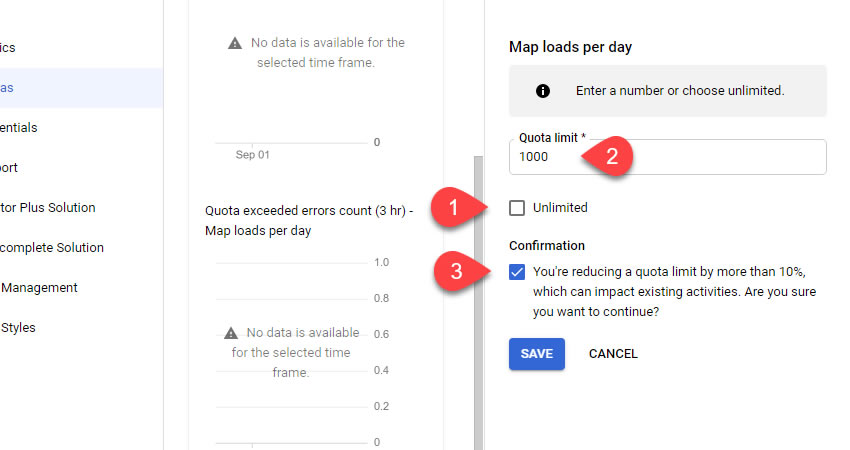 REPEAT this process to change the "Map Loads Per Minute" quota
Now you have completed setting Quotas!
6. Turn On Automatic Billing
The last step in the Google API system is to ensure that you have upgraded to a Full Account.
Click the white navigation icon to see the full meu on the left and click on "Billing".
As you previously added your credit card and created a billing account, this panel should be showing you an Overview.
(If you already have a full account then you are fully setup! Go to the next step to add to your Buying Buddy account.)
If you still have a Free Trial - then on this Overview panel there will be a message that says something like "You are on a Free Trial".
Next to this there will be an option to "Upgrade to a full account".
This may also be a message at the very top of the screen - so check there too.
Click the link/button to Upgrade/Activate a full account.
You will then redirected and shown a panel to 'Activate your full account'.
Select ACTIVATE.
Your account is now a fully active account.
(Remember, Google provides $200 of Free Use per month - which equates to 28,000 uses of the Map API, which means it's unlikely you will be charged unless you have very high traffic on your website.)
7. Add to your Buying Buddy Account.
Go to your Google Map Platform Credentials page and then select Credentials from the menu
Your API Key is shown in the API Keys table and you can use the icon on the right to copy your API Key.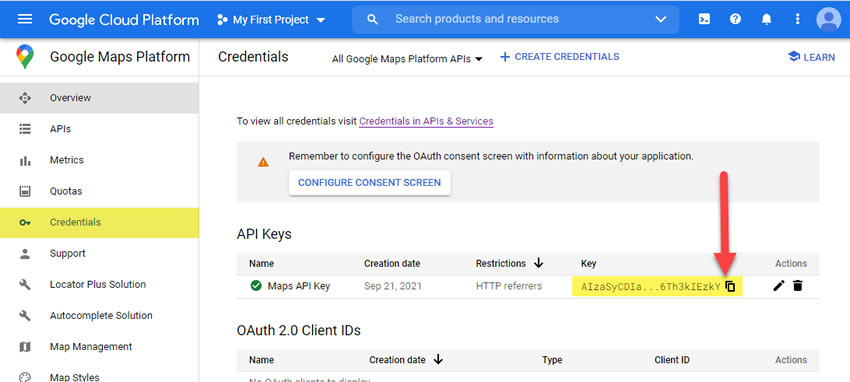 Is this for a new Buying Buddy account?
Please paste your API key into an email and send to setup@buyingbuddy.com.
We will then add this to your account and send you your Buying Buddy account credentials.

Is this for an existing Buying Buddy account?
See these instructions.
Useful direct links for Google Maps Platform