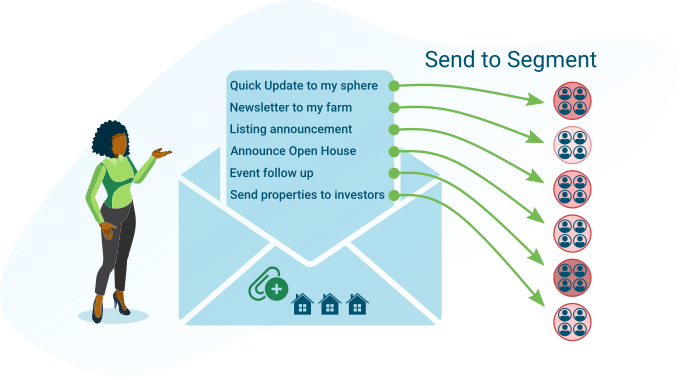 What is Email Marketing?
Email marketing is a set of features in Buying Buddy that will let you target segments of your leads and send them email messages.
These features are really helpful for things like letting people know about a property that's about to come on the market, reminding them of open house times, following up with people after a showing, or just connecting with people.
Unlike campaigns, email marketing will let you send a message immediately to the people that you choose, or schedule something to send in the future.
There are hundreds of uses for email marketing in real estate. Here are just a few:
Stay top-of-mind with your leads, current and past clients, and professional connections with a weekly newsletter.
Regularly share local market conditions, interest rate changes, useful videos, and home design or maintenance tips.
Strengthen your relationships by inviting your leads to client appreciation events, and sending purchase anniversary, birthday, and holiday greetings.
Reap the benefits of your relationship building by sending a post-close thank you email requesting reviews on Google, Facebook, or Zillow.
Use reporting to track who is engaging with your communications and what content they engage with the most. This allows you to easily create what people are looking for and helps establish your expertise.
Getting Started
First, add Email Marketing to your Buying Buddy account.
Navigate to: Marketing > Email Marketing
If you don't already have Email Marketing added to your account, you'll see a link at the top of the page to add this service. Follow those prompts to add to your account.
The free level allows you to send up to 50 emails per month.
If you send more, then you will be charged per email.
If you intend to send more than 50, then you should select a plan for the best rates.
Create and Send Email Campaign
1. Create Segments
Emails will be sent to Segments. So the first thing to do is to ensure you have a segment defined as the audience for this email.
Who are you going to message... Buyers? 4-Star leads? Sellers?

Navigate to: Email Marketing > Manage Segments
Click the New Segment button.
Use the form select your segment criteria and click the green Create Segment button.

For more on segments, see this support page:
https://support.buyingbuddy.com/knowledge-base/segments/
2. Create Email
Navigate to: Email Marketing and click the New Email Campaign button at the top.
Provide the details of the email, including the subject line, who the email is from, and the segment you are sending to.
When you click the Next Step button, you will have a blank space to create your email.
3. Preview and test
Use the Send a Preview option to check how your email looks.
4. Send or Schedule Send
On the last step, select options to Send.
Delivery Reports
Once your email has been sent, return to the main page for Email Campaigns.
At the top of the page you will see a summary of use for the month.
And in the panels below, click the "Completed" tab to see the latest delivery stats for each of your campaigns.
You will receive a delivery report summary by email 2 hours and 24 hours after the email is sent.